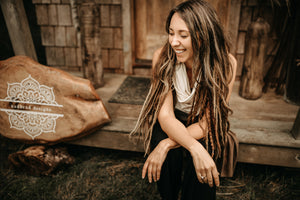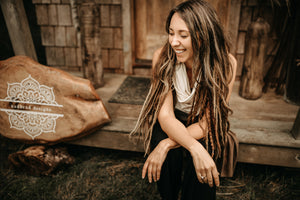 Ethical, handmade clothing for Gaia loving conscious seekers.

We clothe ourselves in order to become what we feel. Draping our bodies in colours and textures in a ritual of self love and empowerment. Balancing our inner and outer worlds with design, flow and versatility.

Nadbrad Designs is ethical, slow fashion. Locally designed and handmade with the highest quality sustainable fabrics. We create artisan quality, versatile, long lasting and comfortable designs with the highest standards in materials and company culture. We're not just creating clothing, we are creating a lifestyle and you are worth that.
Tiny house - tiny studio
We immerse ourselves in the lifestyle of minimalism and inject potent energy into the most important parts of our living. Living on an Eco-Retreat will do that.
planetary changes
Zero waste and sustainable practices are taken into account with absolutely every minute decision from product design, materials to packaging and off-cuts.
building community
Gathering, collaborating and connecting with like-minded souls are part of our core intensions. Come find us at our next festival or stay at the Eden Eco-Retreat
multiwear
the story behind the design
Living out of a backpack for almost 3 years then eventually moving into a tiny house, taught me the value of multi-functional items. Pairing that value with the love of beauty and creativity became the basis for all of these multiwear designs to be born.
~Nadie, owner and designer