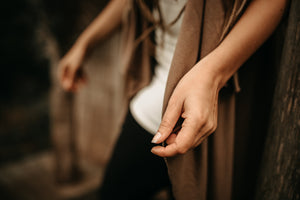 WHY
Multiwear
Because your clothes should be as versatile as you are. In a world of over consumption we have the power to make better choices. Multiwear clothing shapeshifts with your moods and style without you having to own a million pieces.
morning ritual
Really get to know your pieces and use them as a tool in your morning self empowerment ritual by draping your body in the way it's wanting to feel today. Because you my friend, are worth it
how would you wear your multiwear?
Unlimited style options in one piece
Let customers speak for us
favorite piece in my wardrobe
The Tulu skirt is so versatile and looks pretty no matter which way you wear it! I wish I had it in every color<3
Accidental Infinite
In my review of the Athena jumper, I accidentally called this top the Infinity top....but it honestly wasn't far from the mark. I've used it in many ways the past week and a bit, and I'm wearing them as the shorts as I type this out. Hehe.
Yup. I'm definitely going to buy more, and in other colours.
The best "everything" piece
Seriously, it really is the best "everything" article in my wardrobe. I've even discovered another way to wear it as a onzie, and when coupled with the infinity top as a shrug, it's great. I've already worn both the Athena jumper and top in and for multiple outfits.....it hasn't even been 2 weeks yet :D I love this clothing line, and will definitely be buying more pieces. Thank you so much.
Such a cool item!
So many ways to tie it, and such a strong and comfortable material. Definitely one of my favourite items I've ever bought :)
Perfect
I own 3 tulu pieces each in a different colour and love them all! They are so soft and versatile. My fav way to wear them is a skirt or halter dress. Shipping is always fast and the quality is top notch! Never any runs or problems with the stitching!
I love it.
I have worn my tula as a skirt and got many compliments about how good it looks. It's also comfortable, soft and easy to wear.
Purchased at Canada Day tent in Campbell River. Amazing quality, so comfortable! Nad was super sweet and helpful. Absolutely love it!!
Worth !
It's not often I can justify spending on myself. The fact that it is multi functional and versatile is such a space saver.
This clothing is made with a beautiful material that sits and flows. It's designed to be flattering on any figure.
Love the unity - needed a second one!
Great, versatile fit and colors! Fabric is soft and so comfortable.
Unity Top
My fave way to wear the Unity top is as a pair of pants
Love my
Love my new Morrocan Blue Goddess Sweater! I now have three different colours and I pretty much live in them all winter!
Super comfy! Fantastic quality.
Absolutely beautiful fabric! The fit is on point. The garment feels super comfy and cozy. Like wearing a big stretchy hug! I love the colour too!
Quality comfort.
The fabric is super comfy, and the fit is perfect. I was surprised with the weight of the garment. The colour is a stunning jewel colour!
Snowy love
Love my Snowy sweater! It's the best to cuddle up in and I love how you can adjust the fit with the rushing and the hood or cowl.